Inside sources in Washington are abuzz. It seems this will be the week according to people in the know, and Zoellick will imminently be announcing his attention to not seek a second term. They didn't have an exact date for the announcement – could be Tuesday or as late as Friday. But now is really the time to start thinking about the processes – after all a well designed process would have started 6 weeks ago.
So the post yesterday by Nancy Birdsall over at CGD provides a timely look into the US political constraints. She asks:
Can the Obama White House in an election year, facing a Congress suspicious of a globally honored president, eschew pushing through its own American candidate? …

With the White House between a rock (sensible promises) and a hard place (the U.S. Congress) the best that can be hoped is that it doesn't panic and doesn't rush (if it hasn't already).  Let there be time for a global search for the best possible candidate.
Nancy asks many good questions but fails on one front – seemingly endorsing past practice at the IMF (the appointment of Christine Lagarde last summer) as a model. She makes this statement: "Will the Europeans signal early to the United States their understanding and sympathy and full support for whomever the White House proposes—or, as did the United States when Christine Lagarde was the European candidate, wait and see where the chips are falling?" Of course, last summer it was pretty clear that Lagarde had the nomination sewed up the day she announced her candidacy, as the the US Treasury was never going to back someone else. Any US waiting was merely to keep up appearances rather than an honest assessment of candidates – the US executive director to the IMF didn't not even attend the board's interview with Lagarde, sending her junior delegate in her place.
Given that "the gentleman's agreement" can't be overturned by the BRICS on their own, and the Europeans in their desperate financial straits won't be interested in riling the US administration (especially not a Democratic one for fear of who might replace it), maybe CGD's focus on the reform agenda at the Bank will be of greater importance?
An interesting interview of Sri Mulyani Indrawati was in the Guardian at the weekend.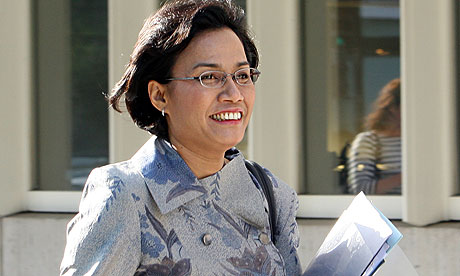 Mulyani is in the top management team at the Bank, is a former Indonesian finance minister, and is rumoured to want the top job. But in her interview she kept mum: "On the question of whether it is time for a non-American to get the job, she just breaks into a steely smile."
The piece also has a list of other potential candidates: Hilary Clinton, Larry Summers, Ngozi Okonjo-Iweala, Trevor Manual, and Michelle Bachelet. That seems like too short a list of names to me. If you have a thought of someone else throw it in the comments below!